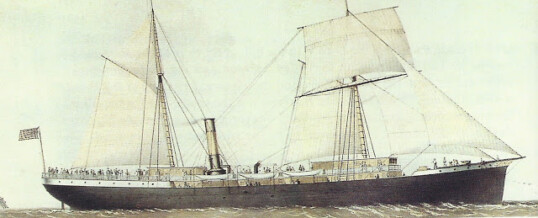 The giant steam engine of the USS Oriental lost off North Carolina on May 8, 1862 sticks well out the water so the wreck is easy to find, but many of the other ships lost on this day in history have yet to be discovered. Today's shipwreck question is whether the SS Kanbe sunk in 1943 carried a cargo of precious metals, such as platinum, gold and silver. If you are reading this in a post, go to http://shipwrecks.com/shipwrecks-of-may-8/ to learn more about some of the many shipwrecks that have occurred on this day over the centuries.

Today's Shipwrecks™
May 8
compiled and edited by Dr. E. Lee Spence
1769: The sloop Seaflower, Captain Whitpain, bound to Philadelphia from the Bay of Honduras, was cast away on Cape Florida on May 8, 1769. The vessel was entirely lost, but most of the cargo  and all of the people were saved.
1794: The British minimal sloop HMS Placentia, commanded by Lieutenant Alexander Shippard (or Sheppard), was bound for Burin from Marisheen when a strong current drove her towards the island of Marticot, Newfoundland. She anchored off a reef but the following morning a swell pushed her onto the rocks. Her crew abandoned her in a sinking state on May 8, 1794. Her crew was saved. The sloop was 44 feet 7 inches in length, 15 feet in breadth, with a depth of hold of 8 feet 4 inches and was 42 33/94 tons British measurement. She carried a complaint of 30 men and was armed with four 1/2-pounder swivel guns. She was designed by John Henslow for coastal patrol duties off Newfoundland. Placentia was first rated as an "armed sloop," and later as an "armed ship," which seems odd due to her small size, armament and commander's rank, so perhaps she was simply rigged as a ship. Marticot Island is located at Latitude: 47° 19′ 59.6″ (47.3332°) north, Longitude: 54° 34′ 53.5″ (54.5815°) west.
1834: The British barque Astrea, bound from Limerick, Ireland, to Quebec, Canada, with immigrants, was wrecked 5 nautical miles east of Louisbourg, Nova Scotia, with the loss of all but three of the 211 people on board.
1845: The brig Zealand, Captain Baker, of Boston, bound from Salt Key for Norfolk with a cargo of salt, was wrecked in a heavy blow and thick weather, on the North East Reef of Turks Island, during the night of May 8, 1845. The vessel and cargo were totally lost, but her people, sails and rigging were saved.
1845: The American schooner James Powers, Captain Keene, of Baltimore, went "on shore on the south-east point of the Bahama Islands" during the night of May 8, 1845. Her crew was saved, but her cargo of salt and sponges was said to be a total loss.
1859: The Canadian barque Thalia, Captain D. Boddie, bound from St. John, New Brunswick, Canada, to Havana, was wrecked at Elbow Cay, Abaco, Bahamas on May 8, 1859. Her crew were saved and carried to Nassau. A portion of the cargo was saved and sold at Abaco.  The 221 tons vessel, was built in 1854 at New Brunswick, Canada, of birch, spruce and tamarac and was iron bolted. 
1862: The Federal transport Oriental , bound to Port Royal, South Carolina, with troops and supplies, was wrecked near Bodie Island, North Carolina, during a storm on May 8, 1862. No lives were lost.

The Oriental was a screw steamer with an iron hull. She was built at Philadelphia, Pennsylvania, in 1861. Her first home port was New York, New York. She was 1,202 gross tons, 218 feet long, 34 feet wide, 21 feet deep, and could carry 100 passengers. 
The wreck of the Oriental has been extensively mapped by East Carolina University as part of its marine archaeology course. There is about 200 feet of exposed wreckage on the seafloor, consisting of her detached bow, boilers, fireboxes. Her propeller shaft and 14′ diameter, iron screw are still in place.
The Oriental's huge compound steam engine, which sits on its still standing iron supports, towers 35 feet off the bottom, with much of it showing above sea level. 
1862: The blockade running schooner Edwin, bound from Nassau, New Providence, was run ashore by the United States gunboat Alabama at a battery near Lighthouse Inlet, Morris Island, South Carolina, on May 8, 1862, while attempting to run into Charleston. The schooner was reported as both bilged and filled with water. The schooner's cargo was consigned to Mr. C. Mitchell of Charleston and consisted of twenty-five cases brogans, one case of hats, ten bushel barrels of kerosene, two bushel barrels of hams, nine boxes of cheese, five bushel barrels of alcohol, five kegs of ink, fifteen kits mackerel, eighty-three boxes of candles, and eighty sacks of salt. Colonel Hatch and some soldiers from his regiment on Morris Island waded out to the wreck in waist deep water and removed much of her cargo. Most of the Edwin's cargo except for the salt was saved and auctioned.
The vessel was owned by the Importing and Exporting Company of South Carolina. The Edwin had previously run a cargo of cotton, turpentine and rice from Charleston to Nassau and was returning to Charleston when she was lost.
1885: The Belgian vessel Helvetia was sunk near Scatarie Island, Nova Scotia, Canada on May 8, 1885.
1915: The British coal carrier Don was torpedoed and sunk in the North Sea, seven nautical miles east of Coquet Island, off Amble on the Northumberland coast, northeast England, by the German submarine U-9 on May 8, 1915. Her crew survived.
1915: The twenty-five year old British fishing trawler Hellenic, 159 gross tons, struck a mine and sank in the North Sea on May 8, 1915. Three of her crew of nine were lost. The wreck is located in about 125 feet of water.

1915: The Danish cargo ship Lilian Drost, bound from Blyth in southeast Northumberland, England to Copenhagen, Denmark, was torpedoed during a gale on May 8, 1915, and sunk in the North Sea in latitude 56°40′ north, longitude 4°00′ east, by the German submarine U-36. Despite the gale and the ship sinking within 10 minutes, her crew managed to launch two lifeboats and survive.
The Lilian Drost was owned by Flindt, Drost & Company in Copenhagen and had been built as the Burton Constable by Edwards' Shipbuilding Company Ltd. at Newcastle in 1892. She was 1,966 tons, and approximately 276 feet in length, 37 feet in breadth and 17 feet in depth of hull.
1915: The British steamer Queen Wilhelmina, 3,390 gross tons, of Haertlepool, bound from Leith to Fowey in ballast, was torpedoed off Blyth near the Longstone Lighthouse, Farne Islands, England on May 8, 1915 by the German submarine U-9. Time was allowed the crew to take to their boats. Her men were picked up by a patrol boat. She was afterwards beached at Bondicar, 1.5 miles south southeast of Amble, Northumberland, England and declared a total loss.

1942: The American steamer Ohioan, 6,078 tons, bound from Bombay, India, via Port Elizabeth, South Africa, and San Juan, Porto Rico, was torpedoed and sunk off the coast of Florida in latitude 26°31′ north, longitude 79°59′ west by the German submarine U-564 on May 8, 1942. She carried 6,000 tons of manganese ore, 20 tons of crow bars and tons of miscellaneous perishable cargo. Fifteen of her crew of thirty-eight were lost.
The freighter Ohioan was built by Stanifer at Vancouver, Washington, in 1920, as the Pawlet. In 1928 she was renamed Golden Wall, and in 1934 renamed Willsolo and finally in Ohioan. She was owned by by the American Hawaiin Steamship Company of New Jersey, and her home port was at New York. She was 6,078 gross tons, 3,776 net tons, 401.4 feet in length, 53.2 feet in breadth, 31.9 feet in depth of hull, and 2,800 horsepower. Her official number was 219551 and her signal letters were KUBL.
1942: The Norwegian vessel Torny, Captain Harald Osterbo, bound from Tocopilla, Chile via Cristóbal, Panama, for Panama City, Florida, went down on May 8, 1942, in latitude 26°40′ north, Longitude 86°40′ west. Another report gave the latitude as 26°45′ north. Two crew lost out of 26 (she had been built for 34).

The Torny was built by Pusey & Jones at Wilmington, Delaware in 1918 (official number 217335), and was 2,585 gross tons, 1,469 net tons, 298 feet in length, and 44 feet in breadth, and 19.7 feet in depth of hold. She had a triple expansion, compound steam engine driving a single screw and could make 10 knots.

1943: The armed British transport Kanbe, Captain John F.T. Burke, bound from Alexandria, Egypt to England, via Takoradi, Ghana and Freetown, Sierra Leone as part of Convoy TS-38, with a cargo of 7,840,000 pounds of copper bars, was torpedoed and sunk on May 8, 1943, by the German submarine U-123, commanded by V.H. Shroeter, off Liberia, West Africa. Based on the timing and her ports of call, it is possible that she also carried a cargo of precious metals. There were four survivors, out of 67 crew and three guardsmen.

The Kanbe was built in 1941 by William Denny & Brothers Ltd., at Dumbarton, Scotland for the British & Burmese Steam Navigation Company for both passengers and freight. She was powered by a compound, triple expansion, steam engine of 320 nominal horsepower and could make 11 knots. She carried a crew of 67.

1963: The Dutch freighter Pinta, bound from Central America with a cargo of lumber, was run into and sunk off Asbury Park, New Jersey, by the British freighter City of Perth on May 8, 1963. Her crew of twelve survived.
The Pinta had a steel hull and was built by N.V. Bodewes Scheejaswerven in 1959. She was 194'3″ in length, 31'6″ in breadth and 12'9.5″ in depth of hull. She was classed A-1 by Lloyd's of London for insurance purposes, and was 1,000 tons dwt., 500 gross tons, and 284 net tons. The freighter had one deck and a shelter deck and her machinery was aft. She was powered by a four cycle, single acting, eight cylinder, Diesel engine, built by Klöckner-Humboldt-Deutz. She was launched on January 1, 1959, at Martenshoek. The Pinta was owned by N.V. Zeerederu, Holland-Utrecht and was registered at Rotterdam. She was managed by Dammers & v.d. Heide's Shipping & Trading Company Ltd.
(Note: Dan Berg in his superb book, Wreck Valley III, gives the GPS numbers for the wreck of the Pinta as 073°50.569 and 40°13.855, and the depth as eighty-five to ninety feet of water.)
• • •
NOTE: This is by no means meant to be a complete list of the vessels lost on May 8, as there have been thousands of ships lost for every day of the year. All of the above entries have been edited (shortened) and come from various editions of Spence's List™. The original lists usually give additional data and sources. Those lists are being updated and are or will be made available for a fee elsewhere on this site. Click here to check out Dr. E. Lee Spence's Facebook page on shipwrecks and treasure.

© 2013, 2017 by Dr. E. Lee Spence for composition, content and compilation.
Share