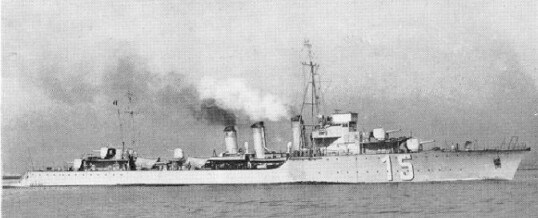 If they weren't completely removed after the war, I think the four steamers sunk to block the mouth of the Yazoo River during the American Civil War would be an interesting project. But others might be more interested in the French destroyer L'Adroit, which was sunk in shallow water near Dunkirk on the coast of France, as she may have carried a fortune in gold. If you are reading this in a post, go to http://shipwrecks.com/shipwrecks-of-may-22/ to learn more about some of the many shipwrecks that have occurred on this day over the centuries.

Today's Shipwrecks™
May 22
compiled and edited by Dr. E. Lee Spence
1776: During the American Revolution, the large ship St. James, loaded with rum and sugar, which had been taken prize by the South Carolina armed schooner Comet, was chased onto the Charleston Bar by HMS Sphinx, 28 guns, on May 22, 1776. The St. James drew 17 feet of water and could not be got off in the falling tide. She was set afire by the British despite a spirited resistance by the South Carolina armed schooner Defence, which had also gone aground. The Defence escaped, but the St. James was totally destroyed.
1783: The British ship Matthew and Thomas, bound from Norway to London, was struck by lightning and consequently destroyed by fire on May 22, 1783, at Gravesend, Kent, England.
1796:  During the War of the First Coalition, the British ship Edgar, bound from Liverpool, Lancashire to Africa, was captured and burnt on May 22, 1796, off Cape Ortegal, Spain by a French frigate. Note: The War of the First Coalition (1792–1797) is the traditional British name of the wars that Austria, Prussia, Britain, the Netherlands, Spain, Portugal, the Holy Roman Empire, Naples and Tuscany, fought against the French First Republic between 1792 and 1797 without much apparent coordination or agreement. In many ways this was a world war as besides involving the armies and navies of at least ten nations, it was fought at sea all of the way from the North Atlantic to the South Pacific.
1799: HMS Le Deux Amis foundered in the English Channel off the Isle of Wight on May 22, 1799. Her crew was saved.
1802: The British ship Marquis of Carmarthen, bound from London, England, to Picton in Ontario, Canada, was wrecked on Miquelon Island on May 22, 1802. There were no lives lost. Note: Miquelon Island (aka Grande Miquelon), is just 42 square miles and is situated in the northwestern Atlantic Ocean near the Newfoundland and Labrador province of Canada. It is owned by France and is connected to Langlade Island (aka Petite Miquelon), which is about 35 square miles, by a 6.2 mile long sand bar, which is exposed even at high tide. A storm had washed away the bar in the 18th century, separating the two islands for several decades, before the currents rebuilt it. The waters between Langlade and Saint-Pierre were called "Gueule d'Enfer" or the "Mouth of Hell" until about 1900, as more than 600 shipwrecks have been recorded in that point since 1800.
1809: The sloop Revival, Captain Carter, bound from Charleston to Santee, was lost on Cape Romain, South Carolina, on May 22, 1809. Captain Carter and his crew were carried to Charleston in the pilot boat William.
1822: The ship Elizabeth, Captain Williams, from Amsterdam to New York, lost May 22, 1822, on south side of Long Island, New York. Part of her cargo was saved.
1823: The ship Commerce, Captain Small, bound from Norfolk, Virginia, to Jamaica, was wrecked on May 22, 1823, "on the Caicos, crew saved and arrived at Turk's Island."
1846: The brig Laurel, Captain Witham, of and from Portland for St. Jago, was totally lost the night of May 22, 1846, on Turk's Island reef.
1857: The new barque Bazford Achorn, of Waldoboro, Captain Kenny, bound from Boston to Mobile on her maiden voyage, was wrecked on Abaco in the Bahamas on May 22, 1857.
1863: The schooner Sea Bird, with a cargo of coal for the United States navy, was burned by the Confederates on May 22, 1863, in the Neuse River just below Wilkinson's Point, about thirty miles below New Berne, North Carolina. The burning schooner was discovered by the United States army steamer Allison. The Allison captured two men from men from "Whitford's band of guerrillas," and a schooner that was found near by. The men from the Allison went ahead and scuttled the Sea Bird.
1863: The above water superstructures of the steamers R.J. Lackland, Golden Age, Scotland, and John Walsh, which had been scuttled about fifteen miles below Fort Pemberton, Mississippi, by the Confederates to block the Yazoo River, were burned on May 22, 1863 by Federal forces from the U.S.S. Forest Rose, U.S.S. Linden, and U.S.S. Petrel. The position of these wrecks was also described as at Southworth's Bar, a few miles above the head of Honey Island, Mississippi.
Note one: The R.J. Lackland was built in 1857 at Cincinnati, Ohio. She had a wood hull, was 710 (or 675) tons, 265′ (or 275′) in length, and 40′ in breadth, and 7′ in depth. Her first home port was St. Louis, and she ran on the St. Louis – New Orleans route under Captain William B. Miller. She went to Confederate registry in 1861, and was used as a transport. She was operated on the Yazoo River in 1862 and 1863. Her twin engines were of the high pressure type, each having a single 2'4″ diameter cylinder with an 8′ piston stroke. Pressed into service as a transport evacuating Confederate supplies from Hayne's Bluff, she was paid $24,250 for a 97 day charter. Her owners were compensated $100,000 for her loss
Note two: The Golden Age was built in 1858 at Pittsburgh, Pennsylvania. She had a wood hull, was 250 tons, 180′ in length, 32′ in breadth, and 6'6″ in depth of hull. She did some transport work for the Confederates at $100 per day. She was valued at $75,000. No official document for this vessel has been located.
Note three: The Scotland was built in 1855 by the Howard Shipyard at Jeffersonville, Indiana, for the Nashville – New Orleans trade under Captain Desmukes. Her first home port was Louisville, Kentucky. In September of 1861 she was owned by Captain A.C. Hopkins of New Orleans, and went to Confederate documentation, and was used as a transport. She had a wood hull, was 567 tons, 225′ (or 165′) in length, 38′ (or 31′) in breadth, and 7'6″ (or 5'6″) in depth of hull. She had twin high pressure engines, each having a single 1'10" diameter cylinder, with an 8′ piston stroke. She had four boilers, each 3'2″ in diameter and 28′ in length. Although considered old and worn out, she was still valued at $60,000 in claims to the government.
Note four: The John Walsh was built in 1858 at Cincinnati, Ohio, for the St. Louis – New Orleans trade. Her first home port was St. Louis, Missouri. Her documentation was switched to Confederate in 1861, and was used as a transport, until considered too old and worn out. She was used on the Yazoo River in 1862 and 1863. She had a wood hull, was 809 tons, 275′ in length, 38′ in breadth, and 8′ in depth of hull. She was stripped before sinking. It should also be noted that in March of 1863, the John Walsh had been stripped and readied for scuttling in the Tallahatchie River, to block the channel below Fort Pemberton, and, despite a contemporary map to the contrary, she was not used for that purpose as the old Star of the West was so large that it sufficed for that purpose.
1915: The Norwegian vessel Minerva, bound from New York for Christiania (present day Oslo), Norway, with a general cargo, was intercepted and sunk on May 22, 1915, by the German submarine U-23, commanded by Captain Hans Schulthess.  Her cargo may have included strategic metals.
1940: The French destroyer L'Adroit, commanded by Henri Dupin de Saint-Cyr, was bombed by a German Heinkel-111 aircraft during the air raid of May 22, 1940, and was stranded and sunk in shallow water in latitude 51º03'42" north, longitude 02º23'20" east, off the beach of Malo-les-Bains at Dunkirk, France.  The wreck stuck out of the water. One man was injured.
Because she was lost at the height of French efforts to evacuate gold belonging to France and its allies, there is some reason to believe that L'Adroit may  had a couple of million dollars in gold aboard (based on 1940 gold values).
Such gold shipments were so highly secret that most of the ship's officers wouldn't have known about it (if it existed at all). And, unless a shipment of gold could be salvaged immediately, such a loss would have been further concealed so the Germans wouldn't salvage it. And, if it was salvaged, that would have been kept secret too.
Post war photos show L'Adroit well up on the beach. But this was after sand had built up around her and not immediately after she wrecked when she was still surrounded by water. And, if you look at those photos you will see that there was major bombing damage. That damage would have made any recovery efforts during the war extremely dangerous and difficult.
Its my understanding that L'Adroit was partially or completely scrapped after the war and that certainly would make sense regardless of her cargo. But one reason, I mention vessels that may have been scrapped is that I have personally found a great many amazing artifacts on wrecks that official records show as having been salvaged or even entirely removed.
Note: Some accounts give the day of L'Adroit's loss as early as May 19. The date that I chose to use was from a survivor's official account. However, his account conflicts with a number of other official reports. Such conflicts are not at all unusual, and is part of why I don't rely on specific dates, and use them only to focus and bracket my research. For earlier wrecks, dates are often off more than just a few days. A vessel may be reported in one account as lost on a particular day or year, while another account, equally authoritative, may show an entirely different month and/or year. There are many reasons for such "errors" and I will try to go into them another time, as such an explanation may help people in their future research.

1943: The British cargo ship Alpera, bound to Ireland from Lisbon, Portugal with 1,700 tons of "mixed general cargo," which included relief supplies and mail for Axis POWs, was damaged in a series of three German sorties by German Focke-Wulf Kurier aircraft and sank on May 22, 1943, about 15 miles northwest of Cape St. Vincent, Portugal, after efforts to tow her to safety failed.
This 1777 gross tons steamer was built in the Garston District of Liverpool, England in 1920 by H&C Grayson Ltd. as the Spanish freighter Coria. In 1923 her name was changed to Cabo del Agua and in 1924 she was renamed Alpera.
1944: The American steamer East Coast, 275 tons, foundered north of Haiti on May 22, 1944, in latitude 20°05′ North, 72°14′ West.
• • •
NOTE: This is by no means meant to be a complete list of the vessels lost on May 22, as there have been thousands of ships lost for every day of the year. All of the above entries have been edited (shortened) and come from various editions of Spence's List™. The original lists usually give additional data and sources. Those lists are being updated and are or will be made available for a fee elsewhere on this site.
Click here to check out Dr. E. Lee Spence's Facebook page on shipwrecks and treasure.
© 2013, 2017 by Dr. E. Lee Spence for composition, content and compilation.
Share