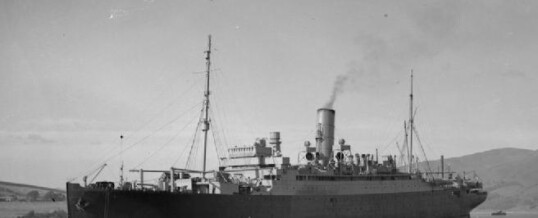 The men from the wreck of the Darlington Court floated into a burning hell, their ghastly cries, made their British escort afterwards wish he had machine gunned them to end their suffering. There were 28 lives lost. Did over 7,000 heavy silver bars go down with her too? If you are reading this in a post, go to http://shipwrecks.com/shipwrecks-of-may-20/ to learn more about some of the many shipwrecks that have occurred on this day over the centuries.

Today's Shipwrecks™
May 20
compiled and edited by Dr. E. Lee Spence
1759: The snow Frankland, Captain Thomas Fowler, of and for Bristol, from Port Royal, which put into Charleston, South Carolina, on May 4, 1759, to wait for the convoy, ran ashore on May 20, 1759, on the "Lower Middle Bank" at Charleston, South Carolina. The vessel was lost, but the schooners and boats employed upon the wreck saved the greatest part of her cargo.
1787: The British vessel Garland was wrecked on the Gold Coast, Africa. Note: The Gold Coast was a British colony on the Gulf of Guinea in west Africa from 1867 to its independence as the nation of Ghana in 1957.
1800: The British vessel Lord Donoughmore, bound from Cardiff, Glamorgan, Wales, to London, England, was wrecked on May 20, 1800, on the Goodwin Sands, Kent, England. Her crew was saved.
1803: The schooner Sally, Captain Gardner, of New York, lying without cargo at Pritchard's Wharf at Charleston, South Carolina, took fire on May 20, 1803. Her quarterdeck was entirely consumed and her timbers were burned so badly that she was described as "past the point of repair."
1813: The British cutter Algerine, Lieutenant Carpenter, was wrecked on Abaco, Bahamas on May 20, 1813. Her officers and crew were saved, and carried to Nassau. She was also described as wrecked "on the Galapagos Rocks (or Roads) on the north side of Little Bahamas, as a result of a heavy swell which pushed her southward and off course."
HMS Algerine had 10 guns and a complement of 70 men and officers. She was 229 tons and had been captured in 1808, from the French under the name Piere Czar.
1822: The vessel Robert Neilson, bound from Liverpool to Maracaibo, struck on a reef near the bar off London on May 20, 1822, and was lost. A great part of her cargo was expected to be saved.
1843: The brig Isabella Brown, 153 net tons, was wrecked on Castle Island reef on May 20, 1843. She was built at Aberdeen, Scotland, in 1841, and had a copper covered, wood hull of elm and larch, and fir, with part iron bolts. Note: There are several Castle Islands around the world, and the sources I found gave no indication of which one.
1855: The British brig Sarah, bound from New York for Cienfuegos, "wrecked on Phillip's Reef, East Caicos," on May 20, 1855.
1863: The London Times reported that on May 20, 1863, a large steamer was discovered by the U.S.S. Powhatan, as it was trying to escape from Charleston, South Carolina, via the North Channel. The steamer turned to try to run back to Charleston, but was cut off by the Federal fleet before she could get back inside the Charleston bar. "The Anglo-rebel was bored through and through (by the heavy Federal cannon fire) and sunk in about eight fathoms (48 feet) of water. Nothing but her topmasts were visible the next morning at daylight. She was a very large steamer, loaded with an immense cargo of cotton and tobacco. Her name was not ascertained, nor the fate of her officers and crew. They were probably drowned, going down with the ship, as she went under very suddenly."
1892: The American vessel Pilgrim, 918 tons, Captain A. Paine, bound from Philadelphia to Cuba with a cargo of coal, was wrecked at Turks Island on May 20, 1892.
1907: The Spanish steamship Izaro, bound to Maryport, England with a cargo of iron ore, was wrecked when she ran aground on Tomlin Rocks, St. Bees on May 20, 1907. Her crew were able to save themselves, but the ship split in two. Her cargo was saved, but the steamer was a total loss. Parts of the wreck are still visible.
Note: St. Bees is a small town located on the coast of the Irish Sea in the Copeland district of Cumbria in northern England.
1914: The British schooner Doris M. Pickup was driven ashore and wrecked at St. Jago, Cape Verde Islands on May 20, 1914. Her crew was saved.
1914: The Swedish cargo ship Gloria caught fire off Malmo, Sweden on May 20, 1914 and had to be scuttled.
1915: The French steam trawler St. Just, of Areachon, "was torpedoed and smashed to pieces" near Dartmouth, Devon, England on May 20, 1915. Her captain was saved but the other thirteen members of her crew were all lost, there having been no warning given before she was torpedoed.
1916: The Italian bark Erminios was sunk by the German submarine U-34 on May 20, 1916 in the Mediterranean about twenty nautical miles south of Palma, Majorca, Spain in latitude 41°05′ north, longitude 3°50′ east.
1940: The Dutch destroyer Van Almonde was sunk by German dive bombers in the harbor at Vlissingen (Flushing), Holland on May 20, 1940. There has been speculation that she may have been involved in the evacuation of some of Holland's gold and diamond reserves and may have had over 50,000 troy ounces of gold aboard her when she was sunk.
1941: The British freighter Darlington Court, 4,974 gross tons, Captain Charles Hurst, with over 8,000 tons of cargo, bound from New York as part of convoy HX-126, was sunk by a salvo of torpedoes fired from the type VIIC German submarine U-556, commanded by Herbert Wohlfarth, on May 20, 1941, one hundred and twenty-six miles south of Cape Farewell, Greenland. Twelve people were saved, but 22 crew, 3 gunners and 3 passengers were killed.
The C.O. of the armed merchant cruiser Aurania, which was traveling with the convoy as an escort, afterwards wrote in his report: "There were several tremendous explosions, sheets of flame and black smoke, which went up at least 500 feet. She was about 2 cables on my port beam when struck. The men on the wreckage floated into this burning hell, their cries were ghastly and now I wish I had put my machine gun on them."
The British Cargo Steamer Cockaponset, 5,995 tons, bound from Houston to Cardiff via Halifax and Holyhead, which was sailing as part of the same convoy with the Darlington Court, was torpedoed in the same general area on the same day.

Note: We know that the Darlington Court was carrying military aircraft packed in wooden boxes, but she may also have been carrying 7,315 bars of silver that had just been transferred from the U.S. Bullion Depository at West Point to the Assay Office in New York for immediate export to England, which badly needed the silver for military purposes.
• • •
NOTE: This is by no means meant to be a complete list of the vessels lost on May 20, as there have been thousands of ships lost for every day of the year. All of the above entries have been edited (shortened) and come from various editions of Spence's List™. The original lists usually give additional data and sources. Those lists are being updated and are or will be made available for a fee elsewhere on this site.
Click here to check out Dr. E. Lee Spence's Facebook page on shipwrecks and treasure.
© 2013, 2017, 2018 by Dr. E. Lee Spence for composition, content and compilation.
Share