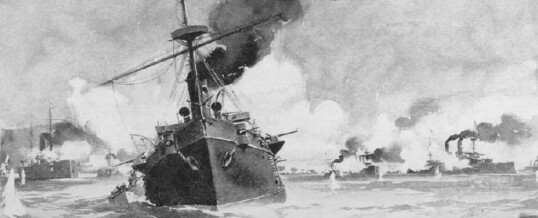 The ten carronades (cannons), which were thrown overboard from HMS Sylph when she ran aground in shallow water off South Carolina during the War of 1812 would make a nice find and be a great addition to a museum. Of course, an even better find would be the tons gold and silver believed to have been carried on a couple of ships that sank on another May 1st during World War II. If you are reading this in a post, go to http://shipwrecks.com/shipwrecks-of-may-1/ to learn more about some of the many shipwrecks that have occurred on this day over the years.
Today's Shipwrecks™
May 1
compiled and edited by Dr. E. Lee Spence
1785: The sloop Polly, Captain McAllister, which sailed on March 30, 1785, from Charleston, South Carolina, for New Providence, went ashore on the Coffin Land on May 1, 1785, and was totally lost. The passengers and crew saved themselves in a small canoe. (Note by ELS: Some modern sources show the Coffin Land as the present day Folly Island, South Carolina, but contemporary maps it appears to have been part of Morris Island, South Carolina.)
1789: A French brig was cast away on the east end of Inagua May 1, 1789. "The crew were carried over to St. Domingo, and considerable part of the cargo, &c. saved by some Bermudian wreckers."
1795: HMS Boyne, 98 guns, caught fire and blew up on May 1, 1795, at Spithead, in south east England. She was lying at anchor while the Royal Marines of the vessel were practicing firing exercises. It is supposed that the funnel of the wardroom stove, which passed through the decks, set fire to papers in the Admiral's cabin. The fire was only discovered when flames burst through the poop, by which time it was too late to do anything. The fire spread rapidly and she was aflame from one end to the other within half an hour. As soon as the fleet noticed the fire, other vessels sent boats to render assistance. As a result, the death toll on Boyne was only eleven men. At the same time, the signal was made for the vessels most at danger from the fire to get under way. Although the tide and wind were not favourable, all the vessels in any danger were able to escape. Because the guns were always left loaded, the cannons began to 'cook off', firing shots at potential rescuers making their way to the ship, resulting in the deaths of two seamen and the injury of another aboard HMS Queen Charlotte, anchored nearby. Later in the day, the fire burnt the cables and Boyne drifted eastward till she grounded on the east end of the Spit, opposite Southsea Castle, where she blew up soon after.
The wreck was considered a hazard to a navigation and was blown up in 1834 in a clearance attempt. Today the Boyne buoy marks the site of the explosion. A few metal artifacts from the ship remain atop a mound of shingle.
She was British ship of the line launched June 27, 1790, and commissioned in August of 1790. She was 2,021 tons British measurement and was a full-rigged ship. Her gundeck was 182 feet in length and she was 50 feet 4 5/8 inches in breadth. Her depth of hold was 21 feet 9 inches. Her armament consisted of twenty-eight 32-pounder guns on her Gundeck; thirty 18-pounder guns on her Middle sundeck; thirty 12-pounder guns on her Upper gundeck; eight 12-pounder guns on her Quarter Deck; and two 12-pounder guns on her Forecastle.
1813: The British sloop of war Sylph, 18 guns, got ashore near the Charleston Bar, South Carolina, in May of 1813, and was forced to throw ten of her guns overboard to get off. (Note: The guns were probably 32-pounder carronades. Pictured below is an 18-pounder, but they would have looked similar.)
1853: The captain of the Osprey, upon his arrival at Liverpool, reported that on May 1, 1853, he had seen a "ship, showing a light," which he believed to "be on shore at Matanilla Reef," on the northern end of the Little Bahama Bank.
1862: The schooner Sarah, from Nassau, loaded with an assorted cargo, was run ashore and burned by her crew near the entrance to Bull's Bay, South Carolina, to prevent her capture by the United States gunboat Onward on May 1, 1862. The Sarah's tonnage was estimated as about one hundred tons. (Note: This was probably the schooner Sarah, 95 tons, built at Lyme in 1819.)
1863: The sidewheel steamer Thomas F. Secor, chartered by the United States, was burned at Seabrook's Landing on Hilton Head Island, South Carolina, in May of 1863. She was built at New York in 1846, had a wood hull and was 210 tons.
1869: Sometime in May of 1869 a Peruvian gunboat, "while on her way to Key West, with a vessel in tow, the hawser which connected them parted; and then, while endeavoring to make fast again, steamed into the vessel and sunk her. Seven lives were lost." The gunboat was afterwards reported as at Ragged Island, Bahamas, with the survivors from the wreck.
1863: The United States transport Horizon was lost, while transporting troops, when it collided with the steamer Moderator at Grand Gulf, Mississippi, on May 1, 1863. A number of Federal soldiers were lost. (Note: A stern-wheeler, she was built as the John C. Freemont in 1854 at California, Pennsylvania, and was 315 tons, had a wood hull, 150′ in length, 39'6″ in breadth, and 6′ in depth.)
1897: The Australian ketch Ability, with a cargo of timber, along with four other unidentified vessels, was driven ashore at Cape Hawke Bay near Forester, New South Wales, Australia during a storm on May 1, 1897. There were no lives lost.
The Ability was built by William J. Woodward at Brisbane in 1878, and was 48 tons. She was 68 feet in length, 18 feet in breadth and 6 feet 6 inches in depth of hull. She was owned by John Breckenridge & Sons at Sydney.
1898: The Spanish cruiser Reina Cristina was shelled and sunk on May 1, 1898, during the Battle of Manila Bay by USS Baltimore, USS Boston and USS Olympia (all United States Navy) with the loss of about half her complement. Survivors were rescued by the Spanish navy vessels Isla de Cuba and Isla de Luzon. 
1914: The German coasting steamer Dollart struck the wreck of the German vessel Werner and sank on May 1, 1914 in the River Elbe at Glückstadt, Germany, with the loss of two crew. The Dollart was later raised, repaired and returned to service. Renamed Yarasli, she went missing in the Ionian Sea in January of 1961.

1914: The American dredge boat New Grand Island was destroyed by fire at San Francisco, California, on May 1, 1914.

1917: On May 1, 1917, the American steamer Rockingham, 4,455 tons, bound from New York to Liverpool via Norfolk, Virginia, with a cargo of pig iron, copper bars and copper wire, was struck on her starboard side, abreast of her engine room, by a torpedo fired from U-69, commanded by Captain Wilhelms. The crew abandoned her in three lifeboats and within 25 minutes she sank in latitude 55°12′ north, longitude 12°30′ west.
1940: The British refrigerated cargo ship Matakana, 8,048, bound from Australia to the British Isles with a cargo of frozen beef, ran aground in heavy seas on Mayaguana Island, Bahamas, on May 1, 1940, and was wrecked. Two of her crew suffered broken legs. Her crew of 78 were rescued by the United States Panama line's flagship Panama, which carried the survivors to New York. The Matakana's captain, chief officer and chief engineer stayed behind on the island to oversee salvage efforts. When the Panama left the site, the seas were breaking over the wreck.
1942: The Russian vessel Tsiolkovshy, bound from Murmansk to the United Kingdom, was sunk due north of North Cape, Norway in latitude 73°23′ north, longitude 25°30′ east on May 1, 1941. (Note: During this time period, the Russians were shipping gold to the United Kingdom and to America for safety and for payment of war materials, and I believe it is quite likely that she was carrying a large amount of gold.)
1942: The unarmed Norwegian cargo ship Bidevind, Marcus Roberg master, was traveling without an escort when she was struck by a torpedo fired from German submarine U-752, while about 75 miles southeast of Ambrose Lightship in the morning of May 1, 1942,. The torpedo hit on the starboard side of hold #4, damaging her generators and radio aerial, as well as shattering most of her cast iron pipes, which slowly flooded her hold and shaft alley. Her crew abandoned ship safely in a motorboat and two lifeboats, but one of them was damaged by flying debris, from a second torpedo, which injured three of the 17 men in it. The injured were later transferred to the motorboat which came to assist and all survivors made landfall at the US Coast Guard station near Toms River, New Jersey the next day. The Bidevind settled by the stern and foundered later that day.
1943: The British vessel Clan Mac Pherson was sunk May 1, 1943 off Liberia, West Africa, she was the seventh and final ship torpedoed in convoy TS-37. Her position was described as west of Sierra Leone and approximately ten miles south southeast of latitude 07°54′ north, longitude 13°58′ west. Her attacker was the German submarine U-515. Her cargo included 2,750 tons of pig iron, and undisclosed tons of zinc and mica. (Note: Large amounts of silver bullion were routinely being shipped from West African ports during this time period, so there is a good chance that her cargo included silver.)
1943: The British freighter City of Singapore, bound from Ghana, which had joined convoy TS-37 in position #43 in the column, was sunk by a torpedo on May 1, 1943, west of Sierra Leone in latitude 07°55′ north, longitude 14°16′ west. She was carrying 2,700 tons of pig iron, and possibly a shipment of silver bullion, which, if aboard, was probably stowed in the No. 3 shelter deck compartment.
• • •
NOTE: This is by no means meant to be a complete list of the vessels lost on May 1, as there have been thousands of ships lost for every day of the year. All of the above entries have been edited (shortened) and come from various editions of Spence's List™. The original lists usually give additional data and sources. Those lists are being updated and are or will be made available for a fee elsewhere on this site.
© 2013 by Dr. E. Lee Spence for composition, content and compilation.
Share