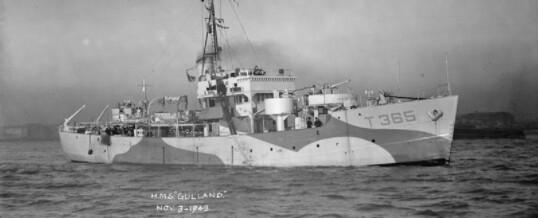 A German submarine, a British freighter and an American freighter sunk off the U.S. coast were just a few of the vessels sunk on April 14, 1942. If you are seeing this in a post, other than on Shipwrecks.com, read more about these wrecks and other ships lost on an April 14 at http://shipwrecks.com/shipwrecks-of-april-14/.
Today's Shipwrecks™
April 14
compiled and edited by Dr. E. Lee Spence
1626: On April 14, 1626, the Payon Gallego, a vessel belonging to Pedro de Vargas, was sunk in the Mona Passage between Porto Rico and Hispaniola. (Note: Gallego translates as Galician, and is a term usually used to denote that a thing or person is from northwestern Spain.)
1742: The ship Queen of Carolina, Captain Abraham Snelling, bound from Boston to Charleston, was driven ashore and bilged near the shoals of Cape Romain, South Carolina, on April 14, 1742. She was consigned to Mr. William Yeomens. Part of the cargo was owned by Thomas Hutchinson and company of Boston.
1784: The brigantine Suffolk, Captain Peter Wanton, bound from Charleston to London, with naval stores and indigo, struck on the breakers of the Charleston Bar, South Carolina, and was sunk on April 14, 1784. Part of her cargo was saved.
1807: The American packet John, Captain Saben, bound from Washington to Jamaica, was lost "on the Caicos" on April 14, 1807.
1809: Captain Armstrong of the schooner Lydia saw a light ship on shore near Georgetown Bar, South Carolina, on April 14, 1809.
1828: The British brig, HMS Contest, 12 guns, Lieutenant Edward Plaggenborg, and the British sloop, HMS Acorn, 18 guns, Commander E. Gordon, foundered on April 14, 1828, "in a dreadful hurricane," while bound from Halifax to Bermuda. The London Gentleman's Magazine described Plaggenborg as a "promising young officer" and said he was lost with all of his crew.
Note: HMS Acorn, 455 tons, was built by Sir Robert Sepping at Chatham and had been launched on November 16, 1826, so she was less than two years old. She had three masts and was approximately 110 feet in length, 30 feet in breadth and 13 feet in depth of hold.
Note: HMS Contest, 250 tons, was built in 1812. at least one source shows her as 180 tons, and approximately 83 feet in length, 21 feet in breadth.

1852: The British ship Duke, Captain Welsh, bound from Mobile for Liverpool, was lost "on the west end of Grand Bahamas" on April 14, 1852.
Captain Welsh was master mariner J.T. Welch (then 35 years old) who, along with his lady (Caroline Welch, of Baltimore, then 28), sailed on June 18, 1852, from Nassau to Philadelphia, aboard the brigantine Victoria. Welch was from St. John, N.B., Canada.
1857: The British warship, HMS Raleigh, 50 guns, was wrecked near the Portuguse trading port of Macao in China. Another account says she was lost near Hong Kong after striking what is now known as "Raleigh Rock." Raleigh Rock is a small pinnacle in the approach to Hong Kong and is 11° 1.7 miles from House Islet and nearly mid channel between Pak leak and White Rocks. It breaks when there is a moderate sea at low-water spring tides, and has 42-54 feet of water close to it.
HMS Raleigh was built in 1845 at Chatham Dockyard, and was 180 feet in length, 51 feet in breadth, and 1,939 tons builders measurement. She was armed with six 8-inch guns, and forty-four 32-pounders. Fifty guns sounds like a lot, and it was in one sense. But, after 1756, ships of fifty guns and less were classed in the fourth rate and considered to weak to stand in the line of battle. However, their guns were sufficient to fight pirates and privateers, and other smaller vessels. A half-block model of the Raleigh is in the collection of the Royal Museum Greenwich. Click here to see it. For a picture of a British admiralty dockyard model click here.
In 1557, Macau was leased to Portugal by the Chinese empire as a trading port. The Portuguese administered Macau under Chinese authority and sovereignty until 1887, when Macau became a colony of the Portuguese empire. Sovereignty over Macau was transferred back to China on 20 December 1999. Hong Kong served more or less the same purpose (i.e. a trading port) for the British, which may be why there is some confusion here.
1916: The British steamship Shenandoah, 3,886 tons, bound from Halifax to London with a large quantity of brass, struck a mine on April 14, 1916, and sank in the English Channel about 1.5 miles southwest of the lightship at Folkestone Gate, England. In addition to the brass, the freighter may have been carrying other strategic metals.
1942: Just after 0000 hours at the start of April 14, 1942, the American destroyer, USS Roper, became the first American destroyer to sink a German submarine, when she machine gunned, shelled, depth-charged and sank the German submarine U-85 off Cape Hatteras, North Carolina. Immediately afterwards, numerous men were observed in the water, but, because submarines sometimes operated in packs, no rescue attempt was made until daylight. By morning, there were no survivors among the 29 bodies that were recovered. Some of them were dressed in civilian clothes, carrying wallets with American money and identification cards. All of the dead were fingerprinted, photographed and buried in a night-time military ceremony at the Hampton National Cemetery. The wreck was in less than 100 feet of water and the United States Navy made a brief try at salvaging her. On site investigations by sport divers have raised questions about Navy reports on the sinking. Her hatch is on display in the Cape Hatteras Lighthouse visitor center and the wreck has become an attraction for divers. Most of the debris from the wreck lies within 330 feet of her hull. An Enigma machine was recovered from the wreck by private divers and in 2003 the German government agreed to allow the machine to be displayed at the Graveyard of the Atlantic Museum, in Hatteras, North Carolina.
Just fifteen hours after U-85 was sunk, the Germans got some revenge when a single torpedo fired from submarine U-203 sank the armed British freighter Empire Thrush, 6,160 tons, on the North Carolina coast, eight miles north of Diamond Shoals. Unlike the men of U-85, all fifty-five men aboard the freighter survived the sinking to return to their families. The American Q-ship USS Asterion saw the attack on the horizon but was unable to arrive in time to engage, but was able to pick up the survivors and take them to Norfolk, Virginia. Click here to see an photo of the Empire Thrush.

Less than six hours after the Empire Thrush went down, the German submarine U-571 sank the unarmed American freighter Margaret, Captain Leonard Logren Davis. This time, the sinking was off Cape Cod, Massachusetts. She was torpedoed from a distance of 600 yards. One torpedo hit the stern and ripped the hull to the upper deck. The ship sank stern first within five minutes. The Germans saw survivors leave the ship, but none of her eight officers and 21 crewmen were ever found and, until records captured in 1945 revealed what had happened to her, the ship's actual fate remained unknown to her owners and the families of the crew. The 1500 horsepower, propeller steamer Margaret was built at Sparrows Point, Maryland in 1916. She had a steel hull, was 3,352 gross tons, 1,125 net tons, 327.2′ in length, 46.2′ in breadth, and 22.9′ in depth of hold. Her official number was 213988 and her signal letters were WKCH. She was owned by A.H. Bull Steamship Company in New Jersey and her home port was New York.

These were just three of the vessels sunk by military action that day, with others going down in other countries around the world.
1943: The 325 foot long Dutch cargo ship Van Heemskerk, 2,996 gross tons, was bombed by Japanese aircraft on April 14, 1943, and sunk in Milne Bay, south-eastern Papua New Guinea. Her destruction was  largely a matter of unlucky timing, Van Heemskerk arrived at Milne Bay under escort of HMAS Kapunda just as the twenty-fourth air raid on that port was developing, after being diverted from Port Moresby due to air raids there. 
The Van Heemskerk was able to get the troops (United States Army 162nd Regiment, 41st Division, from Australia to the Buna-Gona operations area) she was carrying off the ship, but that still left her with a cargo of ammunition and fuel to be unloaded and not near enough time to clear the bay. The U.S. troop commander left an improvised defense of twenty U.S. soldiers who placed a jeep with mounted .50 caliber machine gun on each hatch for defense until, after surviving four masthead level attacks, a hit in a hold containing ammunition and fuel destroyed the jeeps and their men. Despite efforts of HMAS Wagga and her crew to control the resulting fire, the ship blew up at about five that afternoon with four killed.
1943: The German submarine U-526 left Bergen and sailed across the North Sea and into the Atlantic Ocean through the 'gap' between Iceland and the Faroe Islands. On April 14, 1943, following extensive sweeps in the middle of the North Atlantic, she was crossing the Bay of Biscay and had almost reached Lorient, France, when she encountered mines and was sunk. Forty-two men died, but there were twelve survivors.
U-526  was armed with six torpedo tubes (4 bow, 2 stern); twenty-two 21-inch (53.3 cm) torpedoes; one 4.1-inch (10.5 cm) SK C/32 deck gun with 180 rounds; one 1.5-inch (3.7 cm ) SK C/30 AntiAircraft gun; and one twin 2 cm FlaK 30 AntiAircraft gun.
1951: The merchant ship Arab Trader, bound from from Aden to Mauritius, was abandoned as a total loss on April 14, 1951, after running aground three miles north of Mombasa, Kenya, on the previous day. Unless you like soggy lentils, her cargo was nothing to get excited about. With a worthless cargo and no one in Mombasa capable of salvaging her, the vessel was written off as a total loss. The wreck broke up in the surf and what remained was blown apart with explosives. The wreck made news again in the 1970s when an extremely low tide in front of the Reef Hotel exposed what was left of her on the edge of the reef.
The Arab Trader was the former HMT Gulland, (T-365), which had been built as a trawler in 1943 by Cook, Welton & Gemmell, Beverley, Yorkshire, England, United Kingdom, and was commissioned into the British navy the same year as an anti-submarine escort. In March of 1946, she was stripped of her guns and sold to a Belgian company for merchant service. In 1947, she was sold to another company, which renamed her Henken. In 1949, she was sold to the Arab Navigation & Transport Co. in Aden and was renamed Arab Trader.
• • •
NOTE: This is by no means meant to be a complete list of the vessels lost on April 14, as there have been thousands of ships lost for every day of the year. All of the above entries have been edited (shortened) and come from various editions of Spence's List™. The original lists usually give additional data and sources. Those lists are being updated and are or will be made available for a fee elsewhere on this site.
© 2013, 2018 by Dr. E. Lee Spence for composition, content and compilation.
Share