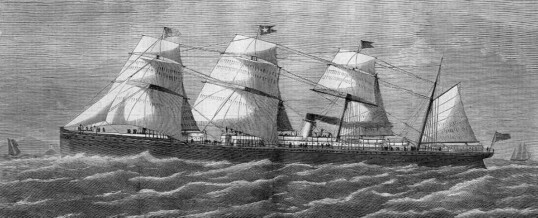 All of these ships had one thing in common, each was shipwrecked on April 1 (April Fool's Day). But their sinking was no joke. Several carried strategic metals that would now be worth millions. If you are seeing this in a post, other than on Shipwrecks.com, read more about these wrecks and other ships lost on an April 1 at http://shipwrecks.com/shipwrecks-of-april-1/.
Today's Shipwrecks™
for April 1
compiled and edited by Dr. E. Lee Spence
1813: The United States Revenue Service schooner Gallatin, Captain John H. Silliman, was sunk a few yards off the end of Blake's Wharf at Charleston, South Carolina, on April 1, 1813, by a violent explosion in her powder magazine. Her stern and quarterdeck were blown entirely away and she sank in just a few minutes. The cause of the explosion was not known and First Lieutenant Philips, who had left the vessel just prior to the explosion, reported that the magazine had been locked. There were 35 men aboard her at the time of the explosion. Gunner's mate Thomas Feld; George Segur; and another man were reported missing and presumed dead. Gunner William Pritchard; John McCoan; Benjamin Chart; George Craft; and a boy named William Hunter were severely wounded, and several others were slightly wounded. As late as February, 1814, the vessel still had not been raised despite announcements that efforts to raise her were to have begun the day after the explosion. (Note One: She had been originally purchased at Norfolk, Virginia, in December, 1807, by Captain Hugh McNeill as a Treasury Department Revenue Cutter for the Charleston station for $9,432.93. She was named for Albert Gallatin who had been Secretary of the Treasury under Thomas Jefferson. During her career she was active in suppressing smuggling and frequently assisted merchant vessels, which were in distress. Acting under Navy orders during the War of 1812, the Gallatin intercepted a British privateer on August 6, 1812, and took her after a fierce battle that lasted 8 hours.) (Note Two: The "Charleston Courier" of February 26, 1814, reported that a diving bell had been constructed at Charleston, South Carolina, for the purpose of raising the guns, etc., from the wreck of the United States Revenue Service schooner Gallatin. All previous attempts to raise the wreck intact had failed.)
1816: A small sailboat plying between Sullivan's Island, South Carolina, and Charleston, with a crew of two, was upset in a squall on April 1, 1816, near Castle Pinckney in Charleston Harbor, South Carolina, and one man was drowned.
1818:   The vessel Keddington, Captain Bacon, from Jamaica to London, was lost on April 1, 1818, "on Atwood's Key," Bahamas. Her crew and part of the cargo were saved.
1835: The sidewheel steamer Augusta caught fire at her wharf at Augusta, Georgia, on April 1, 1835. Four lives were lost and the vessel and her machinery were destroyed. The passengers escaped with their luggage. [Note: The Augusta had a wood hull and was built in 1833 at Savannah, Georgia, which was also her first home port. She was 151 (or 157 tons). The Augusta was owned by the Steam Boat Company.]
1844: The British brig Helen, of Swansea, Captain Simpson, 49 days from Newport, Wales, went ashore on the Hunting Islands, South Carolina, on April 1, 1844. The Helen was also reported as "ashore on the breakers at South Edisto," South Carolina. She carried a cargo of railroad iron, consigned to J. Gadsden & Nephew, of Charleston, South Carolina. The crew was saved.
1846:   The schooner Commerce, Captain Burnham, bound from St. Johns, Florida, for Nassau with a cargo of lumber, was "wrecked at Harbor Island" (Harbour Island, Bahamas) on April 1, 1846.
1859: The steamboat Augusta was destroyed by fire on April 1, 1859, while she was tied up at Grey's Point, below Silver Bluff on the Savannah River, forty miles below Augusta, Georgia. Mr. Henry Day (the first engineer who was a citizen of Savannah) and "three negro men" were drowned. The Augusta was burned to the water's edge and, along with her cargo, was a total loss. (Note: She carried 778 bales of cotton and 538 barrels of flour, which was insured in New York, Boston, and Savannah. The boat originally cost $15,000 and was not insured. If based on the price of gold, her cost in today's dollars, would have been well over $1,000,000.)
1860: The small steamboats Cherokee and Calhoun were burnt at Rome, Georgia, on April 1, 1860. (Note One: The Cherokee was owned by the Alabama Planters Steamboat Company and the loss was put at $14,000. $4,000 was covered by insurance. The Cherokee had cost $17,000 and had run about fourteen months.) (Note Two: The Calhoun was owned by the Oostanaula Steamboat Company. She was a new vessel, having run only three or four weeks on the Oostanaula River. She had cost $6,000 and was not insured.) (Note Three: These losses don't sound like much until viewed in today's dollars, which would have been over $3,000,000.)

1873: During the evening of March 31, despite experiencing intermittent visibility and heavy seas, the White Star line steamer Atlantic was making 12 knots for the entrance of Halifax harbor. Unknown to her crew or passengers, she was off-course and approximately 121?2 miles west of Halifax Harbour. Making matters worse, her officers failed to take soundings, post a masthead lookout, reduce speed or wake the captain as they approached the unfamiliar coast. They somehow failed to spot the Sambro Lighthouse, which was built to warn ships of the rocky shoals.
At 2:00 in the morning of April 1, 1873, the Atlantic struck a submerged rock off Marr's Head, Mars Island, (then called Meagher's Island), Nova Scotia. Lifeboats were launched but were all washed away or smashed as the ship quickly filled and fell on its side. Survivors were forced to swim or climb ropes first to a wave-swept rock and then to a barren shore. Nearby residents soon arrived to rescue and shelter the survivors, but at least 535 people died, leaving only 371 survivors. The ship's manifest indicates that of the 952 aboard, 156 were women and 189 were children on board (including two who had been born during the voyage). All women and all children perished except for one twelve-year-old boy, John Hindley. Ten crew members were lost, while 131 survived.  The Canadian government inquiry concluded with the statement, "the conduct of Captain Williams in the management of his ship during the twelve or fourteen hours preceding the disaster, was so gravely at variance with what ought to have been the conduct of a man placed in his responsible position."
The Atlantic was powered by a 600 horsepower steam engine driving a single propeller, along with four masts rigged for sail, and was capable of 14.5 knots. She was built in 1870/71 by Harland and Wolff in Belfast, Ireland, and was 3,707 tons, 421.3′ in length, and 40.7′ in breadth.
The wreck is heavily broken up and rests in 40 to 60 feet of water. Artifacts recovered from several salvage operations are now on display at the Maritime Museum of the Atlantic in Halifax, and also at the SS Atlantic Heritage Park and Interpretation Center, in Terence Bay, Nova Scotia.
1917: The first armed American merchant ship sunk by a German submarine in World War I was the SS Aztec. The Aztec, 3,727 tons, bound from New York for France, was shelled and torpedoed on April 1, 1917. She sank very near the Ile D'Ouessant (Isle d'Ushant). She carried foodstuffs; general supplies; tinplate; 448,195 pounds of refined copper ingots; 42 barrels of lead acetate weighing a total of 23,385 pounds; 1949 barrels of zinc oxide weighing a total of 265,325 pounds, and 52 boxes of metallic cadmium weighing a total of 7,500 pounds. Today the copper would be worth over $1,500,000; and the cadmium another $90,000.  The zinc and lead would also have considerable value. But don't get too excited, the copper was partially salvaged by an Italian firm in 1956.
1918: On April 1, 1918, while on convoy duty in the North Sea she was rammed by the armed trawler HMS John Fitzgerald and almost cut in two. The crew, with the exception of the captain (Lt Charles Lightoller DSC RNR), the first lieutenant, and the gunnery officer, got away in the ship's boats (one stoker died during the night of injuries sustained from scalding). The fore-part of the ship broke away and sank off Bridlington, Yorkshire, in latitude 54°07'45" N 0°22'10" East, shortly after midnight, leaving the three officers marooned in the stern, which sank at a quarter past two in the morning. The officers were rescued by a trawler after half-an-hour in the water. 
HMS Falcon was a Fairfield three funnel, 30 knot, C-class destroyer. She was launched in 1899 and had four Thornycroft water tube boilers, two vertical triple-expansion steam engines, and 2 shafts. She was 375 tons when light, and 420 tons when fully loaded. She was 215 feet 6 inches in overall length, 21 feet in breadth, and drew 8 feet 9 inches. She had a crew of 63 officers and men. She had one Quick Firing 12-pounder 12 cwt Mark I L/40 naval gun, five Quick Firing 6-pdr 8 cwt L/40 naval guns, and two single tubes for 18-inch (450mm) torpedoes.
1942: The British freighter Eastmoor, 5,812 tons, bound from Savannah to England via Halifax, was sunk by the German submarine U-71 off the Virginia coast in latitude 37°33′ North, longitude 68°18′ West. She carried 273 tons of zinc, 317 tons of steel ingots, 1,063 tons of pig iron, 1,052 tons of zinc bars, 91 tons of magnesium metal ingots, and 444 tons of cannon powder. At $0.90 per pound, the zinc is worth about $2,385,000. Depending on its purity, magnesium sells for about $2.45 making it worth about $445,900. Based solely on the time period, she may have also carried some silver.

NOTE: This is by no means meant to be a complete list of the vessels lost on April 1, as there have been thousands of ships lost for every day of the year. All of the above entries have been edited (shortened) come from various editions of Spence's List™. The original lists usually give additional data and sources. Those lists are being updated and are or will be made available for a fee elsewhere on this site.
© 2013 by Dr. E. Lee Spence for composition, content and compilation.
Share